How to design a safe escape route

A safe escape route should be the first thing on your mind when you start designing a passive fire protection plan. Fire safety first focuses on the safety of the occupants of the building. If you want to save lives, you need to make sure people have the time and the means to evacuate in case of fire to a place of total safety.
In order to achieve this, it will be necessary to protect a specific exit route called the 'escape route' or 'evacuation route' , defined as a safe route (horizontal and vertical) for people to travel from any location in the building or structure to a safe place without the need of outside assistance.
Escape routes must not only ensure a safe evacuation of people who are threatened by fire. The route must also facilitate a rapid and effective rescue by fire brigades who enter the building to extinguish the fire or to search for people still inside the building.
Different protective measures need to be put in place to create an effective escape route. By providing a fire-resisting construction around the escape route, you can keep the fire out long enough for people to evacuate. It might also be necessary to apply positive air pressure to an escape route to discourage smoke from entering in the event of a fire.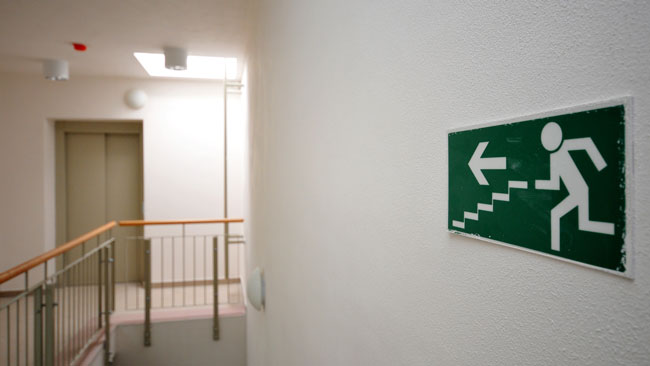 The leading principle for the design of the escape routes is this: The time available for escaping should exceed the time needed for escape. Research shows that the time needed for people to notice the fire, take action and evacuate is much longer than we would think. This is why the escape route should be able to resist fire for much longer than one would think necessary.
The evacuation of older or disabled people requires particular consideration as they will need special care, more time or additional means of exit. Moreover, the safety of the fire brigade or rescue teams must be taken into consideration. They must be able to act in the safest possible way to evacuate people, fight and extinguish the fire to save lives, and preserve the building.
The level of fire protection that should be given to escape routes depends on the level of risk of fire within the premises. As a general rule, premises that are simple, consisting of a single storey, will need quite simple measures to protect the escape routes, compared to a large multi-storey building or a building where there are people that cannot evacuate quickly: hospitals, homes for the elderly, schools and hotels. These complex buildings require a more sophisticated, tested escape plan with a well-integrated and secure escape route.
Since a person's ability to escape can be affected by both the smoke and the heat from a fire, the escape route must be kept free from smoke and gases that can cause incapacitation. Especially when fire occurs in a high-rise building, the smoke can rise and seriously hamper a person's ability to evacuate the building as well as seriously hamper the ability of first responders to go into the building and perform their firefighting and rescue duties. Smoke-filled stairways are dangerous areas, with a high potential for accidents of occupants (slips, trips and falls, panic or bumping into each other).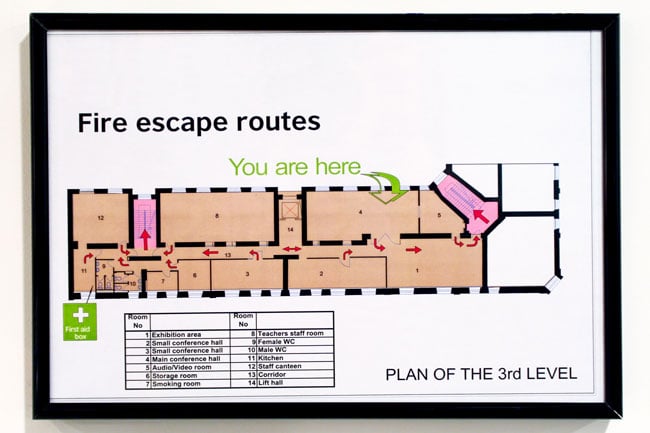 From a practical point of view, the escape route should be considered as a compartment within the building, which can be horizontal (corridors or rooms) or vertical (stairs or, in some cases, elevator shafts). Therefore, they must be realised with products and systems that guarantee a certain fire resistance from the points of view of Integrity (E), insulation (I) and, in some cases, even radiation (W).
Considering that often the escape routes are also the entry (ingress) routes of the rescue teams, the required fire resistance can vary from EI30/EI60 for simple buildings up to EI90/EI120 for complex or tall buildings. Both walls, and ceilings or floors must have the same fire resistance, as well as the fire doors and all the penetrations.
It is important to note that structural fire resistance also plays a fundamental role in escape routes, mainly for two reasons:
Premature collapse of a part of the structure, even if not next to the escape route, can result in the total or partial destruction of evacuation routes and thus make them ineffective.
Especially in cases of vertical evacuation routes, the deformation or even the collapse of the supporting load-bearing structures can result in the impossibility of using the escape route even if it is not directly damaged.
In some cases, mainly for emergency stairwells (but not only), it's necessary to maintain an overpressure to avoid the entry of potentially toxic, irritating or narcotic fumes or gases. For this reason, some fire- resisting ducts must be used, often combined with smoke extraction equipment.